Price:
Regular price
$945.00 USD
Regular price
Sale price
$945.00 USD
Unit price
per
Sale
Sold out
Eldorado Peak is considered the "Queen of the Cascade River". The peak is perched at the edge of the largest contiguous ice-sheet in the lower 48 states known as the Klawatti-Inspiration-McAlister icecap.
The climb presents a moderate challenge with amazing views of Dorado Needle, Forbidden Peak, Mount Buckner, Mount Logan, Johannesburg and the other peaks of the Ptarmigan Traverse. The final Knife-edge summit ridge offers a thrilling and extremely exposed snow traverse. Northwest Mountain Guides guided ascent climbs the moderate Eldorado and Inspiration glaciers and ascends the East Ridge to the summit. On the approach we climb steeply through heavy timber which gives way to a beautiful alpine basin. The three day ascent provides adequate time to summit and our professional guides will introduce the basic mountaineering skills necessary to make the climb. 
Details
Program start time & location:  9:00 am at the Northwest Mountain Shop
Deposit and Payments
$945 fee includes reservation fee, due with application. Trip fees are non- refundable for ANY reason so please make your selections very carefully.
Services included
North Cascades NP fees
Guided climb
Boiled water for meals
Professional mountain guide
All group equipment (including tents, stoves, pickets, ropes)
Services not included
Domestic Airfare
Trailhead parking pass fees
Meals and snack food
Personal gear
Hotels or lodging
Trip cancellation insurance
Medical and evacuation coverage
Staff gratuities
Share
View full details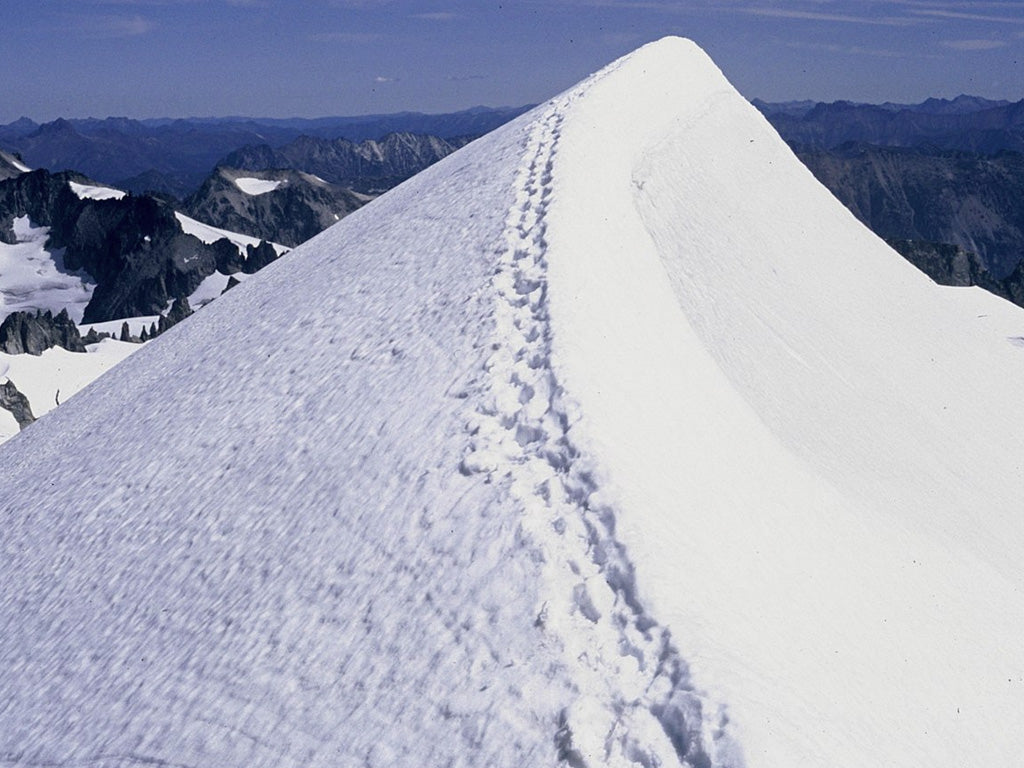 Things to Know Before You Go
Itinerary

Day 1 • Hike to High Camp
-
Meet 9:00am at the Northwest Mountain Shop. Gear check and drive to the trailhead. Hike to camp at the base of the Inspiration Glacier. Basic skills review.
-
Day 2 • Summit Day • Eldorado Peak • 8,876ft
-
Summit day starts early. Begin climbing the Inspiration Glacier from camp to the base of the summit pyramid. We climb snow slopes before reaching the final exposed knife edge ridge to the summit. Descend to camp.
-
Day 3 • Hike to Trailhead
-
After breakfast we pack our gear and return to the trailhead.
-
Itinerary Notes: NW Mountain Guide makes every effort to uphold the scheduled itinerary, although our guides are given discretion to adapt the itinerary for reasons beyond our control or due to the needs of the group. Meal schedule: (B) Breakfast (L) Lunch (D) Dinner
Gear List

A complete clothing and equipment list specific to your trip will be sent to you in the pre-departure information upon reservation. For your safety and comfort it's extremely important that you adhere strictly to the equipment list. We are able to rent most clothing items and mountain gear. Gear is also available for rent at many local Seattle area outdoor shops. Please see our gear rental list.

Head and Face:

Warm Synthetic/ Wool hat: One that covers the ears.
Balaclava, Buff or Neck Gaiter Sun Hat or Baseball Cap
Glacier glasses: Essential eye protection at altitude. Wrap around style or side shields.
Sunscreen: SPF 40 or more
Lip Balm: SPF 20 or more
Bandanas: Tied around neck they give good sun protection, optional
Climbing Headlamp: Bring plenty of batteries.

Upper Body:

Upper Body Layers: We recommend you have three warm layers for the upper body. Items must be made of synthetic or pile. Make sure all layers fit comfortably over each other and supply good insulation. A good combination is a long underwear top, a sweater, and a pile jacket. Cotton items do not provide adequate insulation and are completely useless when damp.
Synthetic Fleece Jacket and/or Pullover: Medium weight
Shirts: One or two synthetic short sleeve shirts. One synthetic long sleeve shirt for summit day is required.
Hard Shell Jacket w/ hood: Snow and high wind can be common. GORE-TEX© or waterproof nylon that has been "seam sealed".
Insulated Jacket w/ insulated hood: 700+ fill down.
**An expedition down parka w/ hood is required for Mount Rainier. A mid-weight insulated parka is required for Mount Baker and climbs and courses in North Cascades NP, Mount Olympus. Proper hard shell rain gear is required on all NW Mountain Guide trips. Rental gear is available.**

Handwear:

Medium weight Synthetic (fleece) Gloves: One pair (WINDSTOPPER© is recommended)
Climbing Gloves or Mittens w/ wrist straps: One pair

Lower Body:

Quick dry Hiking Shorts: One pair. Good for hiking at lower elevations on the mountain.
Long Underwear Bottom: One pair. Synthetic, no cotton
Hard Shell Pants: Bring a good pair of rain/wind pants of GORE-TEX© or waterproof nylon that has been "seam sealed" (full side zips are required).
Climbing Pants: Synthetic, comfortable to climb in and provide good warmth on cool misty days, dry fast and prevent sunburn. Schoeller© fabric is recommended.
Gaiters: One pair of high gaiters to keep dirt and snow out of boots.
Undergarments: Enough for the duration of the program. **Proper hard shell rain gear is required on all NW Mountain Guide trips. Gaiters are optional on mid and late summer climbs. Rental gear is available.**

Footwear:

Double Plastic Climbing Boots or Leather Mountaineering Boots (full shank and crampon compatible)
Heavyweight Socks: Two pair of synthetic socks to wear for warmth with climbing boots.
**Plastic mountaineering boots or expedition leather mountaineering boots are required for Mount Rainier and early season Mount Baker and some early season climbs and courses in North Cascades NP. Mid-weight leather mountaineering boots are adequate for mid and late summer climbs on Mount Baker, North Cascades NP, Mount Olympus. NO Backpacking boots on any trips, boots must be full shank and crampon compatible. Rental gear is available.**

Sleeping:

Sleeping Bag: Bring a warm bag (rated 0 to 20 degrees Fahrenheit depending on climb or course).
Sleeping Pad: One closed-cell foam pad and/or an inflatable THERMA-REST© pad. Packing and Backpack:
Backpack: One lightweight large size 75-80 liters (4500-5500 cubic inches) comfortable pack with good support, adequate to carry personal and group gear. The pack should fit properly and have a good waist belt. Carry gear between 45 and 65 pounds.
Bags: large plastic bag, large Ziploc bag or waterproof stuff sacks
**An adequate size backpack is required depending on the climb or course you've joined. You are responsible to carry all your personal gear and food, as well as a portion of group gear (tents, ropes, stoves, fuel, etc.). Rental gear is available.**

Climbing Gear:

Trekking Poles: adjustable and collapsible, required
Ice axe w/Leash: 70cm is recommended
Crampons
Climbing Helmet
Alpine Climbing Harness w/ adjustable leg loops.
Carabiners Locking: One large pear-shaped, screw gate

---

Mountaineering Courses:

We require these additional items.

Four non-locking standard gate Carabiners
Prussik cord (6mm, 30 feet)
Optional items include:

Drinking:

Water Bottle: Two, one liter wide-mouth plastic bottles. NALGENE©
Water Treatment: We recommend you bring one bottle of "Potable Aqua" or a "Polar Pure", crystal iodine in a bottle, to treat drinking water.
Water Flavoring: Lemonade, Tang, Gatoraid, optional

Personal Health and First Aid:

Small personal first-aid kit and medications
Plastic bowl, insulated mug, and spoon
Snack and lunch food
Personal Items
Camera
Fitness Requirements

Prior climbing experience is beneficial. Basic snow and ice climbing skills are introduced during the program. Above average physical conditioning is required for most climbs in the Pacific Northwest. No high altitude experience is required.

Mountaineering is physically demanding, and your ability to enjoy this adventure depends on your overall health and fitness. Many consider Mount Rainer the toughest endurance climb in the lower 48 states. A typical day includes eight to twelve hours of climbing with over 4,000 feet of elevation gain.

We suggest you begin your training program at least four months prior to departure depending on your current conditioning. Walking up steep hills and stair climbing are both excellent ways to condition your lower body. Begin slowly, without the weight of a pack, eventually adding weight as you increase your training pace. In order to condition yourself to carry the weight, it will be important to take long hikes (4-6 hours) with a weighted pack at least one or two times a week. The best training for mountaineering is to carry a loaded pack up and down hills or small mountains. Hike uphill without breaks for at least an hour at a time when possible. Then break 10-15 minutes at the most and then continue hiking uphill for at least another hour. Do this as much and as often as you can. This is certainly not the only way to train but is probably one of the best ways to train for climbing big mountains. Don't worry about your pace, this will increase over time, instead hike uphill slower if needed without taking as many breaks. Work at maintaining an even respiratory rate.

Unfortunately many of you don't live near good hills or mountains so then you will need to find another activity that will help increase your endurance. Supplement this with running, cycling, swimming, racquet sports, weight training, etc. for additional aerobic conditioning your heart and lungs. Any time spent at altitude will also prove beneficial. Remember mountain climbing is an activity where you slowly climb uphill over long periods of time while carrying heavy to a moderate amount of weight.